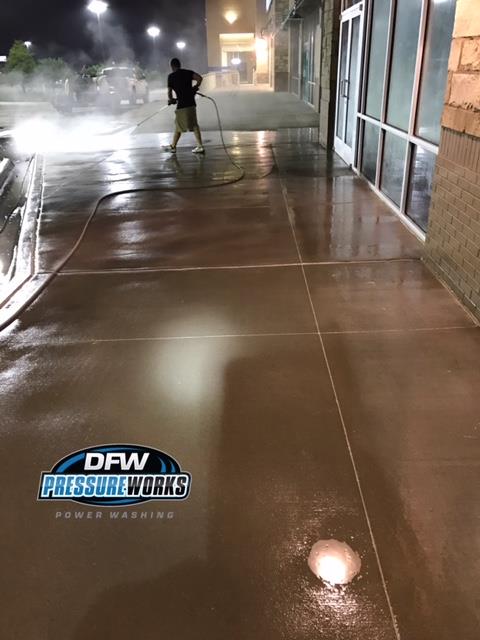 When it comes to running a business that caters to the world of children, there is never a break in cleaning for the mess that never seems to end. Maybe you own a daycare or early learning center, a children's clothing boutique, a speech therapy clinic, or a trampoline park. Regardless of the way in which your business extends itself to parents and children, the common thread is that messes are going to be made and effective solutions need to be in place. If you are going to maintain a clean and inviting commercial space, then you must sometimes look outside of your own time and ability to find some professional assistance.
DFW Pressure Works is the perfect solution to your consistent mess that is the result of working with children on a daily basis. From discarded bubble gum to Koolaid spills to everything in between, our company knows all of the tricks when it comes to making your parking lot, sidewalks, and all other concrete surfaces look new again. The application of pressure washing to your commercial property will revive those surfaces that you once thought were a lost cause. We are constantly met with customers who are truly amazed at the difference that can be made after our detailed cleaning approach has been utilized.
For the business owner who wants to continue welcoming in the messiest of children while still remaining attractive to new potential customers, our cleaning services are the essential key to getting the job done. We work with each of our customers to ensure that their time and money is being well spent on a company who pays close attention to detail and will give your property a thorough clean without harming surfaces in the process. We will care for your property as if it were our own, and we look forward to receiving your call and getting you that pressure washing quote that you need to get this process started!