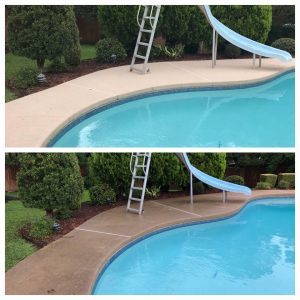 With warmer weather around the corner, it's never too soon to start planning for how best to enjoy your backyard pool oasis this summer! Maybe you've already been checking out this year's new fashion statements when it comes to swimwear and have already purchased new patio furniture and pool toys for the kids. It's important to gather all of the necessary items that are required for this outdoor space, a spot that will become increasingly popular over the coming weeks and summer months for you and your guests.
But, have you stopped to consider the state of the pool itself? Has the long winter and dreary weather left your beloved getaway looking much worse for the wear? When you have made such a huge investment, you want to give it all the proper maintenance and care that you can. The beautiful and uniquely crafted concrete surfaces surrounding your swimming pool will not be ready to look their best this season without some professional help! So, with a busy pool season just around the corner, it's time to find a company that can help you take better care of your backyard from the ground up.
At DFW Pressure Works, we specialize in working with residential properties that are desperately in need of a little, or a lot, of TLC. We understand that the long and harsh winter weather has tried its best to deteriorate the beauty of your property and pool area, but we are ready to stand up and fight back against those dirty, ugly surfaces. Our power washing method is both a safe and effective way to transform your concrete back to its original beauty and create a space that you will enjoy and be proud to show off.
So, if you're ready to find out what lies beneath those dark and dingy surfaces that lie out back, then visit us online or give us a call today to receive a pressure washing estimate and learn more about all that our residential pressure washing services can do for you this summer!!