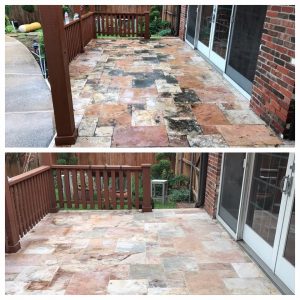 Nothing says summer quite like good food and a backyard barbecue, right? We all dream of hosting our friends and neighbors for a day or evening full of quality food, conversation, and fun in the backyard. Maybe gathering around the pool is what your parties typically look like. Maybe your group is more into tossing the Frisbee and playing corn hole or badminton. Whatever the activity, it is best enjoyed with your favorite people and a nice atmosphere.
The problem, however, lies in the fact that you are the perfect host yet lack the perfect space for throwing this epic summer get-together. Your backyard and patio was once a beautifully designed and well kept place to relax and welcome your family, but you have let it go in far too many ways. Sure, the grass can be mowed and flower beds weeded, but there is only so much scrubbing that you can do to make your concrete and stonework look new again. There is such an overgrowth of mold and mildew that you are probably embarrassed to invite anyone over to your home, and, therefore, you are missing out on a summer full of fun party possibilities. But, the solution to this problem may be far easier than you might think.
If you hire a professional to come in and pressure wash your home and favorite backyard surfaces, you will be amazed at the transformation that takes place! At DFW Pressure Works, we have seen so many of our clients across the Dallas-Fort Worth area who have been able to reclaim their backyard by utilizing our services. Those rocks and walkways that have long been dark and dingy looking will become the focal point of your entire outdoor space once they have been properly cleaned and pressure washed. That perfect oasis of a backyard that you saw on Pinterest can be within your grasp if you simply take the time to make the right phone call and revive the beautiful waterscape and patio that you already own.
Visit us online or call us today at 214.425.0262 to learn more about all of the pressure washing potential that you can bring to your home or business this summer!