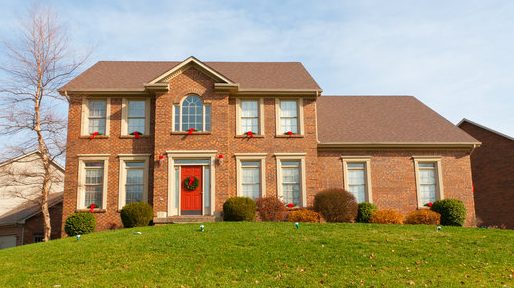 As we excitedly prepare for the holidays and pull out all of our favorite decorations, our minds are filled with all the necessary projects that need to be done around the house. The tree has to be decorated, stockings hung and lights placed strategically on the outside of your home.
As you are stringing your exterior lights and hanging your wreath on the front door, take a moment to examine the general appearance of your home. How long has it been since you have put any time and effort into keeping it maintained? Many of us spend our free time tending to the inside of our homes and never get around to working on the outside. We let years of wear and tear wreak havoc on one of our most valuable possessions.
Pressure washing the exterior surface of your home offers a super easy and effective solution to the eyesore that your home has become. The front of your home is the first sight that will greet your friends and family as they visit you this holiday season, and you want that initial vision to be welcoming. Save yourself the trouble of breaking out the sponges and soap buckets to try and restore the beauty of your home, and, instead, let us do the dirty work for you!
Simply call DFW Pressure Works and schedule a residential pressure washing for your home. Our fully insured, family owned and operated company serves customers such as yourself all across the Dallas/Fort Worth area. You are not alone in scrambling to prepare your home for this Christmas season, and we can help make your cleaning experience hassle free. Call us today!